JCB 531-70
/ NOT AVAILABLE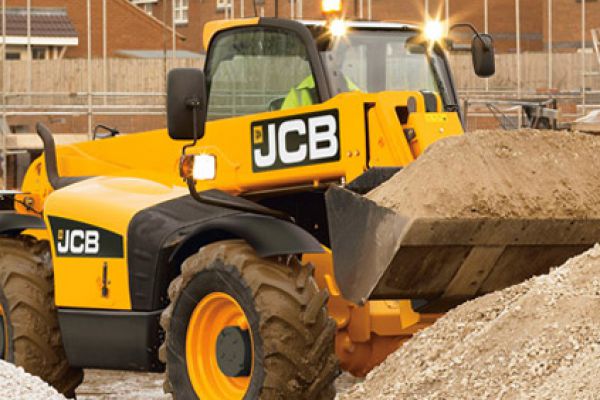 Double tap to zoom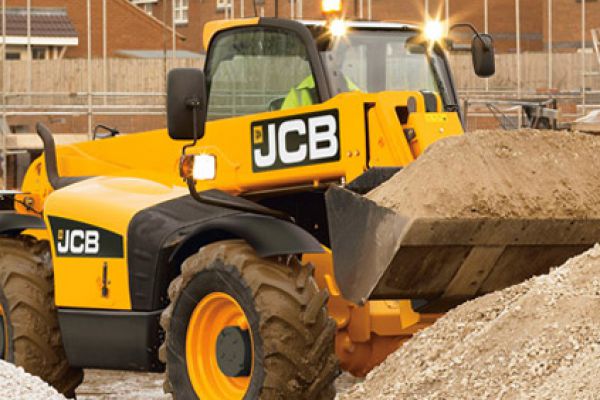 Features
The JCB 531-70 Loadall is the smallest of our full-sized telescopic handler machines. It's a hugely efficient Dieselmax-powered Loadall sitting on a chassis that's designed for load-bearing and stability.
The side-mounted JCB engine combines with JCB axles and transmission to ensure a reliable drivetrain performance from well-proven telescopic loader components.
This telescopic handler also has instant steering selection between three modes for easy operation, a tight turn radius and great maneuverability.
MANEUVERABILITY AND PERFORMANCE
The JCB 531-70 telescopic handler uses a combination of individual hydraulic wheel motors and four-wheel steer for superb maneuverability.
It's also got JCB's Dieselmax engine for improved power and productivity. The 74hp (63kW) unit produces its power and torque at low revs, meaning that the engine has to work less hard than rival machines. That saves fuel and, of course, money.
Of course, good ground clearance and four wheel drive means this Loadall can make excellent progress in any conditions or terrain. Add a hydrostatic transmission for easy operation, infinite speed variations and great fuel efficiency, and you have a telescopic loader with truly versatile performance and productivity.
Further productivity
Three steer modes (2-wheel, 4-wheel and crab)
Superb visibility
Transmission disconnect button diverts engine power for improved hydraulic cycle times
Parallel lift gives excellent load retention
Long chassis provides stability
SERVICEABILITY AND DURABILITY
Every JCB telescopic handler is designed to maximize uptime and productivity. To do that, we make sure our components last a long time and, when routine replacements need to take place, we make sure everything important is easily accessible.
So all checks are quick, simple and safe to carry out from ground level on this Loadall. The one-piece hood is on a gas strut for ease and safety; the radiator guard and reversing fan keeps out debris; the fold-out cooling package is easy to clean, as is the flat floor with drainage channels; and most service intervals, including boom lubrication, are a lengthy 500 hours.
Every JCB telescopic loader has a one-piece fully welded chassis for maximum strength and minimum weight. Hoses are routed through the boom and lights fold away to protect against site damage. The U-shaped boom with integrated boom nose and one-piece closing plate has reduced joints and stress points.
Key components like telescopic handler transmissions are tested over thousands of cycles and all of our manufacturing processes are backed by ISO 9001:2008.
WORKING ENVIRONMENT
The JCB 531-70 telescopic handler has class-leading comfort, not least because of its spacious, safe, side-entry cab. Visibility is superb and there are stable doors for ventilation, all of which is just the start; we invest in the Loadall operator's comfort because it equates to real, measurable improvements in day-long productivity.
This means building everything around the operator, from a fully adjustable suspension seat and steering column, mobile phone holder and intelligently placed air vents, to ergonomic controls on the front console.
Controls on the JCB 531-70 telescopic loader are intelligently grouped for instinctive use, with hydraulic and transmission controls laid out for quick, safe and precise operation. The load moment indicator, providing progressive read out of forward stability, is at eye level for easy checks and maximum safety.
In fact, the only people who might lose out with the 531-70 Loadall are potential thieves and vandals; all telescopic handler windows are etched with serial numbers, and a battery isolator immobilises the machine.
A SLICK OPERATION
New instruments and a hi-res TFT screen form an intuitive automotive-style layout in the new 531-70 Loadall cab, while backlit switches are crystal clear even in the dark.
Visibility on a 531-70 telescopic handler is excellent, courtesy of a cleverly-packaged driveline and sloping hood.
The new-look exterior of the 531-70 Loadall isn't purely cosmetic; the cooling fan airflow is now angled upwards, reducing dust build-up.
The exterior top door slam latch is new – you can now close the upper door from outside.
On bright days, standard-fit tinted cab glass will reflect 30% of the sun's energy for enhanced operator comfort.
An improved rear window seal provides positive closure; this keeps dust and debris out of the 531-70's cab.
A productivity-enhancing 7-speed fan optimises heating and cooling in the cab of the 531-70telescopic handler.
The cab is one of the largest around, boasting class-leading low noise levels; excellent air flow, ventilation and demisting; optional air conditioning; fully adjustable steering column and optional suspension seat.
SAFE AND SECURE
For quick, easy and safe access, the JCB 531-70 has a three-point access.
Hose burst check valves on the rams prevent collapse if a hose fails, and JCB Adaptive Load Control system is automatically activated to control the boom functions to help maintain the longitudinal stability of your 531-70 Loadall.
The seat safety switch on the 531-70 disables forward and reverse when an operator leaves their seat; this prevents inadvertent operation.
A JCB 531-70 comes equipped with a full set of side and rear view mirrors for all round visibility and safety compliance. For extra safety, a reverse alarm is standard-fit too.
The 531-70 factory-fit immobilizer arms itself after a certain period following engine shutdown. Choose your activation method from a unique key or 4-digit keypad.
The immobilizer on a 531-70 Loadall always synchronises with the ECU before starting the engine, providing increased theft protection.
Backlit switches are clearly visible, even at night or in low visibility.
LESS SERVICING MORE SERVICE
All daily checks and greasing on a 531-70 Loadall can be carried out at ground level; engine oil, hydraulic and fuel filters are centrally located for convenience. The air filter is also easily accessible, and easy to clean.
For fast, easy inspection of 3 sides of the engine, this telescopic handler has a large, wide service bay, accessed by a gas-assisted hood.
You can access a 531-70 Loadall's battery easily (and without specialist tools) via a lockable cover that's opened with the ignition key.
The diesel tank is also easy to get to, and can be filled from ground level. For protection from dirty fuel, there's an integral pre-filter in the filler neck.
A dry lubricant system means the 531-70's wear pads are extremely durable, with service intervals of 500 hours – compared to around 250 hours on typical competitor machines.
Most Tier 4i engines use a Diesel Particulate Filter (DPF) or SCR, requiring additional AdBlue fluid level maintenance – EcoMAX doesn't.
The 531-70 Turbo's cab air intake filter is easier than ever to access and replace.
Specifications
| | |
| --- | --- |
| Engine |   |
| Maximum Engine Power | 74hp (55kW) |
| Lift Performance |   |
| Maximum Lift Capacity | 6,834lb (3100kg) |
| Maximum Lift Height | 22\' 11\" (7m) |